Instruction on how to shift a mattress when moving your house
Moving mattresses is a must-have task for every time of house moving. Right here, we want to show you some tips on how to shift a mattress when moving your house.
A mattress designed for 2-3 people is usually about 1m6 x 2m or 1m8 x 2m in size, so you may have some difficulties when moving it.
As you can see, it is not too challenging to move foldable mattresses because after being folded, their size is reduced a lot. Meanwhile, flat mattresses will take you lots of time and effort to move from place to place.
In the article today, we want to share some experience of moving mattresses with you.
How to pack the mattress for moving
First of all, you need to pack the mattress neatly and carefully, which will bring much more convenience for moving your mattress to your new home. Following are specific steps to pack a mattress:
Step 1
Remove all the objects such as blankets, pillows, curtains, and bedsheets out of your bed.
Step 2
If you have a rubber or spring mattress, it is certainly heavy and large. As a result, it is impossible for you to move it by yourself. It is best to ask for help from other people to get the mattress out of your bed.
Step 3
Check the mattress carefully before packing to ensure that there are not any scratches. Besides, it is important to make sure that your mattress surface is completely dry.
Step 4
To protect your mattress in the best way, you should put it into a specialized mattress cover. You can buy these mattress bags at the stores that specialize in mattresses. Note that you need to measure the size of the mattress to get a suitable mattress bag.
Step 5
In case it is difficult for you to find out a special mattress cover with the right size, you can use thick plastic to wrap around the mattress, which helps to protect the mattress from dust, dirt, and mold. Another choice for you is wrapping your mattress in a thick blanket while moving.
Step 6
Whatever packaging method you use, keep in mind that you need to use sticking plaster so that the cover can protect the mattress most effectively.
Use a bag to cover the mattress carefully. Under no circumstances should you not miss the step of covering and sticking to avoid scratching the mattress during transport.
What to prepare before moving mattresses
Before shifting a mattress, you need to pay attention to some issues related to transportation. In particular, there are some necessary things you should take note:
Helpers
Depending on the size and the weight of the mattress, you need one or two people to help carry it on trucks. You should not try to move such a heavy object by yourself because it may cause damage to your mattress. It is likely that you will have some trouble if you move it through a narrow staircase or a small door. When you take your mattress through a position like that, it is necessary to observe the objects on the wall, lighting equipment, and hidden doorsteps.
Transporting equipment
You do not need to use specialized equipment such as trolleys to transport your mattress. You can move it safely by wrapping it with sticking plaster, especially when you bring it to the truck.
Transportation
It is best to use box trucks for moving mattresses. It is advisable not to use cars for transport because it may be a danger to your moving on the road.
How to move your mattress safely and effectively
How can you move your mattress in a safe way? It is advisable to follow the steps below:
Step 1
Before removing your mattress from your house, make sure that there are not any obstacles on the road from your home to the truck.
Watch for children and pets in surrounding areas to avoid being impacted negatively during transport.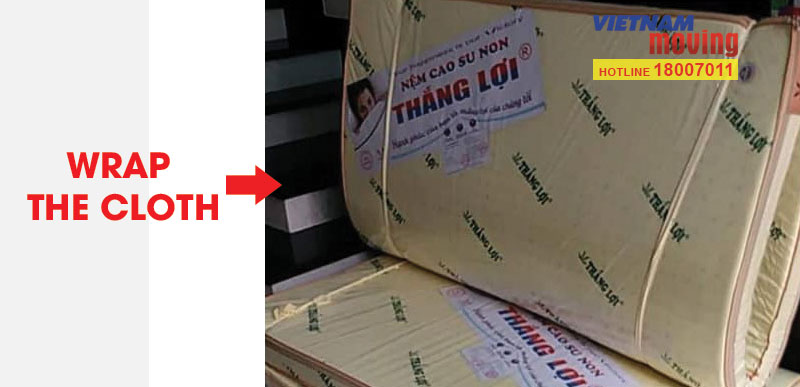 Open all doors along the road. If the size of the mattress is too large for the entrance, find a way to tilt the object. Do not fold the mattress to create an angle of more than 10 to 15 degrees because it may destroy the structure of the mattress.
Step 2
What to do next is to fix the mattress to avoid colliding with other objects on the truck box, causing scratches. You should place your mattress between other furniture to ensure that your mattress stands upright. Besides, with this arrangement, your mattress also works as a cushion for your furniture.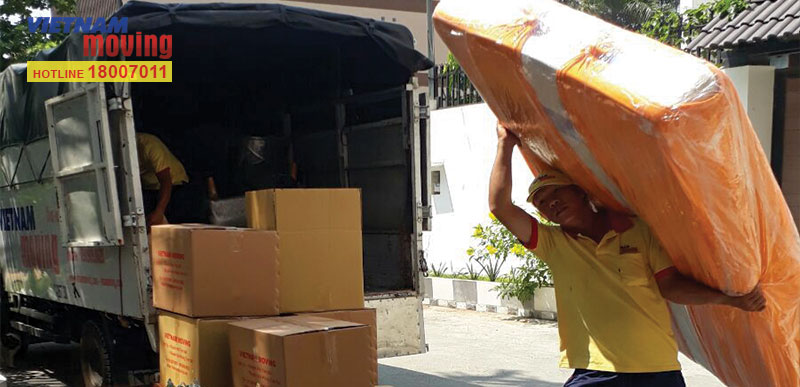 If you find it difficult to shift your mattress while moving your house. It is highly recommended to hire the house moving service of Vietnam Moving.
If you want to hire the house moving service of Vietnam Moving, please call hotline 18007011 to receive free price quotes as well as other advice from Vietnam Moving staff.