How to arrange furniture quickly after moving home
While moving home, please find a way to organize work scientifically. If so, your moving process will happen more quickly. Moreover, you can arrange things faster after moving to your new home.
As far as we're concerned, moving home is a complicated process that requires many stages. Therefore, to save time on this task, you need to have a detailed plan, including specific steps to take and necessary supporting tools.
In particular, packing and classifying are considered the two most important steps during the moving process. The reason is that if these two steps are completed well, you will gain significant advantages in arranging furniture after moving home.
Right now, Vietnam Moving will help you to discover handy tips for arranging furniture at your fingertips after coming to your new home.
How to arrange furniture before and after moving home
The furniture arrangement is a crucial stage when you move home. Whether it is before moving or after moving, you need to pay special attention to this stage.
So how can you arrange furniture quickly after moving your house? Actually, if you want to do this smoothly, you need to complete the two tasks, consisting of sorting and arranging furniture before moving. Please also follow the details of how to arrange furniture when moving.
Before moving home
In fact, some steps before moving, including sorting and packing furniture, will significantly affect the whole process of moving.
Sorting and packing furniture
This is one of the most important steps because it not only helps to speed up the next steps in the process of transporting furniture but also make it easy to find and arrange all the items after you come to your new home.
Specifically, you first need to prepare supporting tools, including cartons, sticking plaster, lining, tie, and wrap.
For the next step, you divide all the furnishings into different groups like fragile items, electronics, furniture, and appliances.
After that, you select the cartons with the right size for containing the items according to the divided groups.
After putting all of them into the carton boxes, you use sticking plaster to glue the bottoms and the edges of the cartons so that the boxes will stay fixed during transport.
For some appliances like televisions, washing machines, refrigerators, and desktop computers, we recommend using the dedicated containers provided by the manufacturer instead of cartons. Only these boxes are powerful enough to protect your furniture from lots of potential risks.
Make a note
After sorting and packing, you must prepare a marker pen to write a note on the carton boxes. This work is quite helpful because of making it easier for you to arrange furniture on the truck. More importantly, it will be useful for rearranging furniture at your new house.
With some pieces of furniture such as tables and chairs, beds, wardrobes, you can mark the joints between disassembled parts. You do the same with electronic equipment. That being said, it is best to seek help from qualified people to avoid damaging electronic components.
In addition, for the great convenience of furniture arrangement at the new home, you should mark particular items for each room.
After moving home
If you follow all the steps above, you will have no trouble arranging things after moving to the new home.
If possible, you should have a blueprint that includes the order of the items brought into the house and their positions in each room.
When having such a plan, you just follow it or give it to those who aid you in moving home. Then, we believe that everything will go smoothly and quickly.
Should you hire a moving service to transport and arrange furniture quickly?
If you do not have much time to move home, it is advisable to go to Vietnam Moving - the leading moving company in Vietnam. Here, all the steps are taken according to a standard process.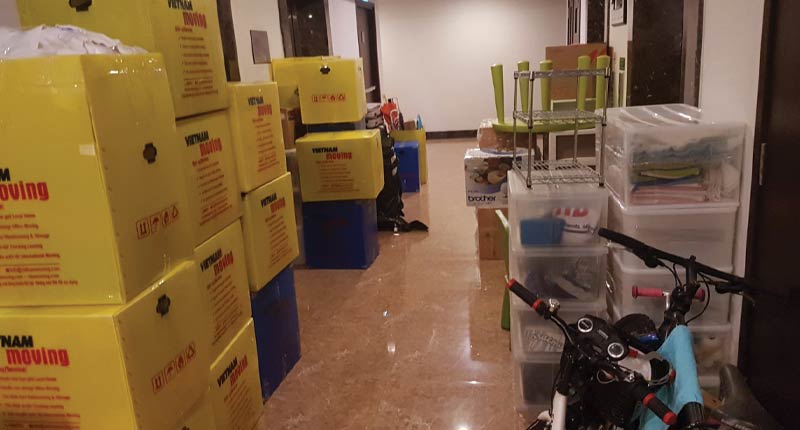 Vietnam Moving - a prestigious service company
Vietnam Moving has a group of professional staff members, each of whom is proficient at various fields, thus being assigned with different tasks. As a result, they can carry out the moving task step by step without having any difficulties.
When having any special requirements, you can say them to Vietnam Moving staff. Then, they certainly will try their best to meet all your requirements.
The moving price depends on the amount of furniture, the characteristics of items, the distance from the old house to the new one, the terrain on the way, and many other ones. But in general, you can have complete peace of mind that the service offered by Vietnam Moving will be worthy of your money.
If you need to hire a home moving service, please contact Vietnam Moving via hotline 18007011 to receive a free price quote as well as other helpful advice from our staff.