Office Moving Companies and Quotes
The mention of Vietnam Moving, the customers whom are in need of office moving or moving house, are very familiar with this brand. Thanks to the experience through many years of providing the market the most quality international and domestic moving services, the brand Vietnam Moving is a reliable choice.
There are some moving companies which were famous but lost their reputation/name because the quality of service was not maintained. This makes customers disappointed. But it is different with Vietnam Moving, the company constantly learns and listens to the opinions of customers to improve its professionalism, modernization and quality control. These things just to ensure the absolute satisfaction of customers when they use our services.
The most important process for an office moving, either large/medium/small, is to have a good plan, formalized strategy, and allowance for changes, additions, reductions. Both sides should be aware of all plans, possible problems, timelines, road restrictions, building guidelines, staff lists, etc.
All Vietnam Moving packers have experience with office moves, packing procedures and moving of electronics; computers, fax machines, photo-copiers, scanners, shredders and most importantly, servers.
Packaging equipment, furniture
Notes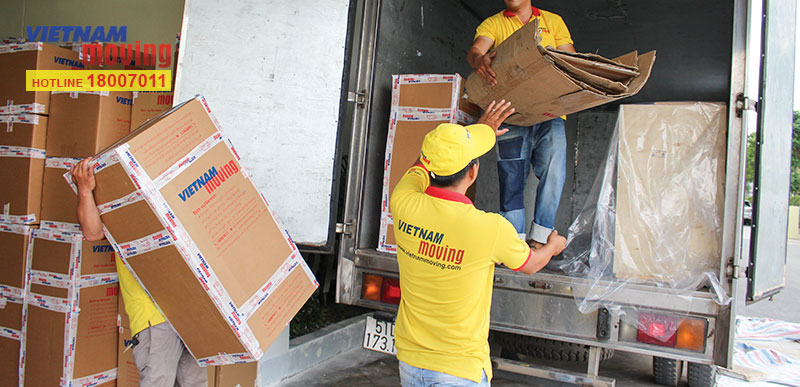 moving to truck
Vietnam Moving offers many ancillary services to office moving, including, but not limited to:
- Storage long or short-term for extra furnishings. We offer a wide array of storage temperatures, conditions and locations.
- Re-instatement construction, lighting, carpet removal, repair, re-installation of all office fixtures to their original condition, to assure you get your full office rent deposit back.
- Furniture liquidation buying any/all furnishings not wanted in your new office. Save you money on transport, time on selling, and head ache for reusing unwanted items.
- Document storage and management a professional solution for clearing your office of 'space wasting', 'rent eating' documents, with an off-site storage and management option for past documents you must keep for Vietnam laws and regulations.
Vietnam moving strives to moving offices, with as little business interruption as possible, and replace everything in their original position to allow for work continuity and limited down-time.
For more information and quotes for office moving, contact:
Vietnam Moving Co.,Ltd.
Ho Chi Minh Head Office
Tel: +84 0909 240 809 – 0902 823 212
Email: info@vietnammoving.com
Add: 36 Street No. 1, Trung Son Residence Area, Binh Hung Commune, Binh Chanh District, HCMC