Price list of international moving
You want to move your home overseas and wonder where you can find out the best moving service? After that, we will introduce you to a high-quality service as well as its price.
The increase in the demand for moving home overseas leads to the coming of a significant number of international moving services. In fact, moving abroad is much more challenging and exhausting than domestic moving. There will be dozens of problems that need solving while you take this kind of moving.
For this reason, almost all people often choose to hire international moving services instead of moving the house by themselves.
To meet the increased demand for moving internationally, quite a few companies provide this type of service. Each of them comes with various advantages and disadvantages as well as different prices.
Which one is best for you? Let's continue your reading.
Price list of international moving at Vietnam Moving
First of all, we can claim that the international moving service offered by Vietnam Moving will give you a reasonable price.
Similar to domestic moving, for the accurate calculation of the price, the service company first needs to go to your house for a survey. They will get the necessary information related to the moving process, including the amount of furniture, the location you want to move to. Then, the service provider will calculate the number of workers supporting the house moving, the type of transportation and the required procedures when moving abroad.
With every moving process, we always ensure to remove unnecessary steps to accelerate the process, helping save costs.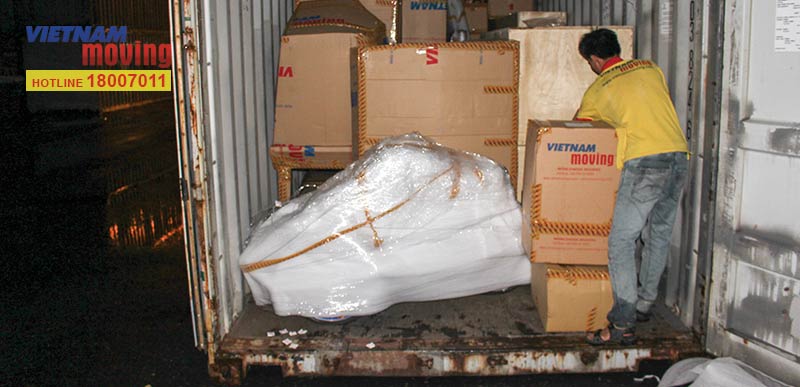 Besides, Vietnam Moving often provides many service packages with preference policies for customers. The criteria of Vietnam Moving consist of professionality, speediness, safety, and flexibility. If you decide to move your home abroad by yourself, it certainly will be a challenging task. In contrast, when hiring the service from Vietnam Moving, it will become much simpler.
How to contact Vietnam Moving
If you want to hire the house moving service of Vietnam Moving, please call hotline 18007011 to receive free price quotes as well as other advice from Vietnam Moving staff.