Documentation Storage - Secure and professional storage service in Vietnam
Nowadays, the needs of documentation storage, records storage of companies, agencies and enterprises are rising more and more day by day.
To meet that demand, Vietnam Moving is pleased to introduce to you the secure documentation storage service – a leading professional service, which helps making storage simple, fast and more convenient than ever.
Difficulties in documentation storage
Any business, whether public or private, whether in the country or abroad, all their papers, books and documents are important and require high security storage.
However, many companies find it difficult to store documents and records at present, by problems such as insufficient storage space, safety and a trustworthy partner.
If you want to store all the documents with huge volume requires, the company will have to spend a lot of money and cost to build storage room, and hire people to manage the whole process.
Because each company has different types of papers, so the documentation storage also needs to be systematic and scientific. At the same time, it absolutely needs a clear classification for easing the retrieval process. There are so many unforeseen risk issues can arise like lost papers, theft, fire, or the storage environment is not guaranteed against damage caused by termites. All of these problems can disrupt the activity of many companies when they need documents, records, or archives to work.
Fully understanding these difficulties, companies which offer documentation storage service can offer many solutions to support their customers. Vietnam Moving's professional and secured documentation storage service Starting from the desire to provide customers with a reliable and secure storage space, which helps to save unnecessary expenses for the purchase of storage devices for all individuals and organizations, Vietnam Moving brings the professional documentation and records storage service, which helps customers feel more comfortable and convenient when working. Documentation and records storage is a reliable service which can resolve a lot the difficulties that customers may encounter as we have indicated above.
The benefits of customers when coming to our service:
- Ensure absolute safety during documentation storage process. The storage system meets all standards for storing documents, vouchers, invoices, records with the modern camera system and security devices to ensure to avoid all cases of theft. In addition, the advanced management software with fire alarms, fire prevention also helps to limit any risk of fire that may affect the documents of customers. There are measures to treat termites, insects or environmental factors to assure the safety of the documents before and during the storage process.
- Secure all information of customers when coming to Vietnam Moving documentation storage service.
- All types of papers, documents and records are classified, arranged in a scientific and careful way by the experienced, responsible, professional and careful staff. All the records are managed by advanced tracking system, and managed by barcodes to eliminate any confusion when receiving and delivering goods.
- The storage system is large enough to meet all requirements of customers with the high quality and standard equipment, document/archiving storage in Vietnam.
- Vietnam Moving works 24/7h, and always support customers to action their pick-up and drop off requests in a timely manner.
Indeed, documentation storage at Vietnam Moving is an optimal solution for all individuals, organizations, businesses and companies. You can have your peace of mind when entrusting your documents and records to us.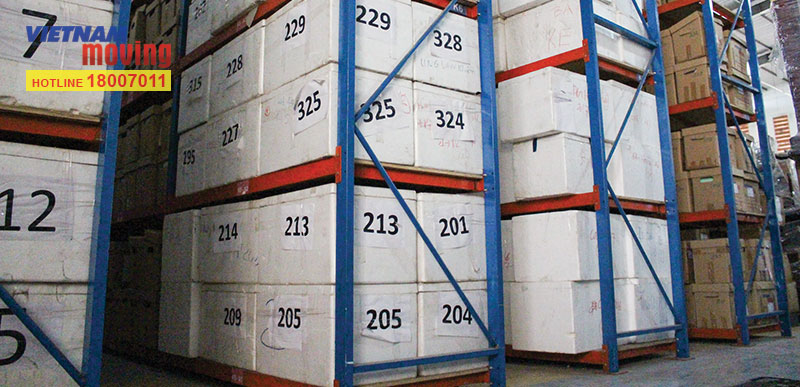 With commitment to ensure safety, security and effective management only with the most affordable cost, Vietnam Moving strives to exceed the satisfaction of our customers.
With all of these problems we have indicated above, do you want to handle documentation storage yourself? With Vietnam Moving, everything will be completed in the safest and most effective way.
And if you think the documentation storage service that Vietnam Moving provides is exactly what you are looking for, contact to Vietnam Moving hotline right now and our enthusiastic and diligent staffs will always be willing to answer your questions.
And you will never have to be worried about the cost, because we commit to bring you the lowest cost with high quality and professional service that you can't easily find with other providers. Vietnam Moving – Brings you the best quality and prestigious documentation storage service!
For more information and quotes, please contact:
Vietnam Moving Co.,Ltd.
Ho Chi Minh Head Office
Tel: +84 90909 8620 – 18007011
Email: info@vinamoving.com
Add: 36 Street No. 1, Trung Son Residence Area, Binh Hung Commune, Binh Chanh District, HCMC